Vineri și Sâmbătă, 30 şi 31 ianuarie, vino la o petrecere erotică grandioasă să fii martorul unei seducții live! Attraction Club va recrea atmosfera de film a unei nopți incitante unde libidoul tău va atinge cote maxime.
Punctul culminant al evenimentului va fi Show-ul Lesby Venețian cu două invitate surpriză! Participantele la petrecere vor putea să se alăture show-ului! Ca într-un roman de epocă, dezbracă-te de secrete, dar ține-ți masca pe față și nimeni nu va ști misterul tău!
DJ-ul nostru de senzație se va ocupa de coloana sonoră a unei nopți de swing cu adevărat speciale. O mulțime de oameni și tot atâtea fantezii, toate sub un văl de mister unde tu te lași în voia simțurilor în decorul luxuriant unic din Attraction Club. Citeşte şi mai multe despre motivaţia noastră pentru acest party mai jos.
*Măștile venețiene sunt incluse în taxa de intrare!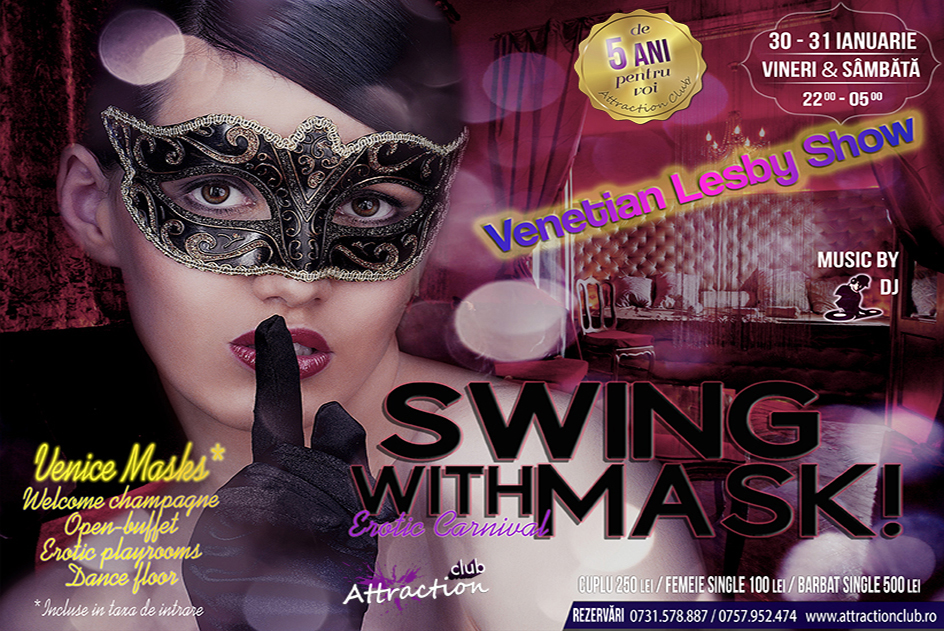 Dezbrăcăm Veneţia de secrete!

Luxosa si exuberanta. Unica si vie. Mistica si legendara. Asa arata Venetia in ochii tuturor. Orasul Dogilor, sfintilor si pescarilor a fost odata si orasul depravarii, al sexului si al curtezanelor. Aici aveau loc cele mai scandaloase orgii…totul sub anonimatul mastii. O masca devenita simbol pretutindeni.

De ce Venetia a fost leaganul decadentei renascentiste? Sa fie oare devina peisajul cu lagune iradiind straluciri de foc? Sa fie oare devina arhitectura grandioasa care simboliza puterea, avutia si ierarhiile sociale? Sa fi fost frumoasele venetiene vinovate de libertinismul sexual ridicat la nivel de arta? Cert este ca depravarea in Venetia a starnit reactii vehemete din partea Papalitatii.

Venetia are un aer aparte..un aer misterios care incurajeaza la pierzanie si la placeri carnale intense, totul, bineinteles, intr-un cadru protector si partinitor.

Vrei sa gusti din placerile Venetiei de altadata? Ai fantezii interzise pe care vrei sa le pui in practica cu necunoscuti? Attraction Club da startul unui weekend de foc: Swing with Mask-Erotic Carnival!

Swing with Mask-Erotic Carnival readuce la viata atmosfera din saloanele pompoase ale acelor vremuri: truprui goale, spectacole cu tenta porno, umbre si lumini ,sampanie si masti luxoase.

Crezi ca le-ai vazut si incercat pe toate? Ce zici de un show lesby venetian cu doua invitate surprize? Daca iubita ta nu se multumeste cu privitul, poate sa se alature show-ului si sa lase publicul masca! Ai curaj sa privesti?

Swing with Mask-Erotic Carnival: un spectacol cu masca dar fara perdea! Un show senzational, intr-o atmosfera grandioasa, de epoca!

Venetia-un oras cu reputatie proasta dar cu liber la placeri interzise. Asta se intampla in urma cu secole si depasa orice fel de imaginatie. Venetia era considera o reincarnare a oraselor Sodoma si Gomora, renumite pentru orgii si homosexualitate . Aici pacatul era strigator la cer si practicat de toata lumea..din mama in fiica.

Nu doar femeile erau recunoscute pentru poftele carnale greu de stavilit. Venetia este si orasul lui Casanaova-imaginea cuceritorului prin excelenta. Considerat o masinarie de seductie cu o sexualitate monstruoasa, Casanova a avut mii de aventuri erotice, traite cu pasiune.

Venetia de atunci este legenda. Attraction Club isi propune sa reinvie cadrul acelor desfaruri. In fond, merita sa incercam cu totii din acele practici revoltator de seducatoare.

Swing with Mask-Erotic Carnival este mai mult decat o petrecere erotica: este o petrecere erotica cu swinge, masti si show-uri lesby. Ceva ce nici Venetia nu a vazut!

Show lesby erotic, cu participare din public

Probabil ca-ti imaginezi ce ofera doua venetiene misterioase intr-un show erotic: atingeri, miscari lascive, trupuri goale si accesorii pentru un plus de placere. Vrem sa-ti dam imaginatia peste cap si sa o introducem in acest scenariu, pe partenera ta si pe partenerele celorlalti invitati. Ce crezi ca va iesi? Cum crezi ca va arata finalul? Te lasam sa vezi cu ochii tai, intr-un show live..cu totul si totul grandios.

Poarta-ti masca cu senzualitate si profita de faptul ca nimeni nu-ti va vedea chipul si nici secretele. Aici doar placerile si fanteziile conteaza.