Update: Emilia te invită la un party special!
La Attraction Club, ne mândrim cu faptul că oferim cele mai calitative evenimente de swing din România. Fiecare petrecere este meticulos planificată pentru a asigura o experiență de neuitat. La Attraction Club, ai întotdeauna parte de cea mai sexy socializare și distracție între cupluri, iar toată lumea este lipsită de prejudecăți și preconcepții false. We're here for a good time!


Fă parte dintr-o experiență unică și rafinată de swing la Attraction Club, cu oameni valoroși și de

calitate într-un loc valoros și de calitate! Așa, pe măsura voastră!
Împărtășește plăceri cu oameni de calitate, oameni valoroși și creează amintiri de neuitat și lasă-ne să-ți oferim cea mai captivantă și intensă noapte din viața ta! Investiți în plăcerea voastră de calitate!


Când luminile se sting, cea mai erotică distracție pentru adulți începe ❤️‍🔥

Doar la Attraction Club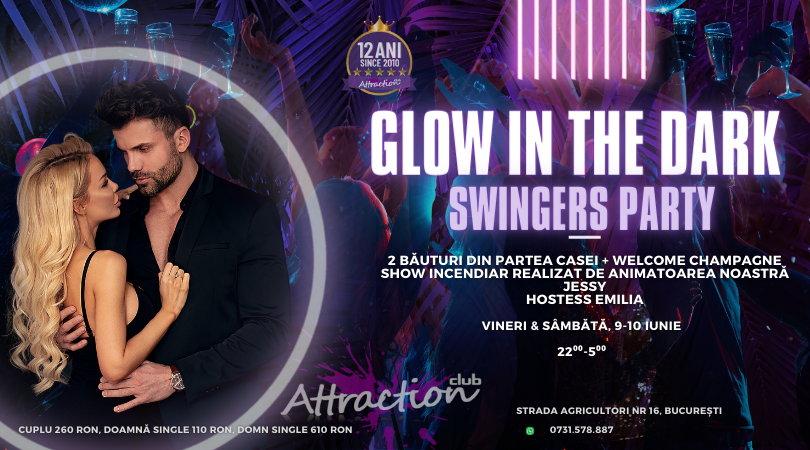 Cele mai erotice vise se îndeplinesc în întuneric 💘
Cauți momentul potrivit să fii tu însuți și să te bucuri de cea mai erotică noapte din viața ta?
Glow In The Dark – Swingers Party este o petrecere extrem de sexy, unde invitații se bucură de experiențe erotice în întuneric, acompaniați de lumini fosforescente. Îți poți imagina un cadru mai sexy de atât? 😉
All Swing lovers know that Attraction Club is the only place where they will never be disappointed, because we are the leaders of adult entertainment in Romania for 12 years!
We have the most conducive Swing atmosphere, as well as an incredibly erotic and aphrodisiac setting. 😉
Intră în lumea swing-ului și gustă din eleganța erotică pe care o regăsești doar la Attraction Club
---
What awaits you at this Swingers Party?
Glow In The Dark Swingers Party este cu adevărat una dintre cele mai râvnite petreceri pentru adulți, marca Attraction Club.
De ce?
Deoarece această tematică învăluiește de fiecare dată clubul într-o atmosferă jucăușă, misterioasă, peste măsură de erotică. Clubul va fi decorat ca atare, iar voi veți primi la intrare brățările fosforescente. Nu uitați, petrecerea începe la ora 22 – ceea ce vă va oferi o fereastră destul de încăpătoare pentru socializarea sexy de care aveți întotdeauna parte în Agricultori 16. Nu uitați! Nu înseamnă nu și nu veți fi niciodată forțați să participați la o activitate la care nu doriți.
Primele 2 băuturi + șampania de bun venit sunt din partea casei! At the same time, the evening begins with a incendiary show made by Jessy, our entertainer, who will start the most exciting and erotic party of your life! That hostess, you will find it on Emilia – Mulți dintre voi o cunoașteți, a fost gazda mai multor petreceri Attraction Club – Emilia vă va întâmpina în aceste seri de neuitat și vă va putea răspunde la întrebări legate de desfășurarea petrecerii.
La Attraction Club, ai întotdeauna parte de cea mai sexy socializare și distracție între cupluri, iar toată lumea este lipsită de prejudecăți și preconcepții false. We're here for a good time! 💌
Join the most non-conformist couples who visit the Attraction Club, want to have fun and enjoy together the erotic atmosphere that envelops our location. Elegance and flirtation are indispensable, Attraction Club is always the perfect scenery for experiencing the most powerful sexual experiences with our special guests.
---
De ce să alegeți Attraction Club?
We want to offer all Swing lovers an experience of not to forget, whether it's their first time at a swing party, or they're regular customers.
No night at Attraction Club is the same, because we innovate every party with erotic themes, specially designed to increase your sexual appetite and stimulate you in ways you've never been stimulated before!
Attraction Club is the only place where prejudices disappear completely, discretion is the order of the day, and pleasure and satisfaction radiate to the maximum.
The red lights, the luxurious design of the location, the exciting music and our top guests give the unforgettable experience that you will only find here, because we are the leaders of adult services in Romania for 12 years!
Our entertainer will give everyone an incredible show, from the beginning of the evening, to further relax the atmosphere and delight the participants.
We love to give our guests the opportunity to live out their most cherished fantasies, so we revolutionize every party to ensure that every experience lived at Attraction Club is something unique.
Senzualitatea este elementul nelipsit al petrecerii, cât și atmosfera autentică de Swing pe care o găsiți doar aici.
You definitely want to impress, so get your sexiest clothes, and make others want you!
See you soon! 💓
---
Întrebări frecvente legate de GLOW IN THE DARK SWINGERS PARTY
Buy ticket now online safely, with your bank card!
That way you won't be able to refuse your surprise anymore 😉

All card transactions are absolutely secure and confidential.
The payment is processed by NETOPIA MOBILPAY, the largest online payment processor in Romania